From his time as a three-sport star at the Friends School in Baltimore, to winning the Tewaaraton Award at Johns Hopkins University, to a decade-long professional career, Kyle Harrison has never stopped playing lacrosse.
While he may not have been playing Major League Lacrosse for the past three years, his return to the league with the Ohio Machine doesn't mark his return to professional lacrosse.
"In my opinion, I've been playing lacrosse professionally for the past three years, it just hasn't been in the MLL –– and I'm happy to be back," Harrison said. "I love my team, I love the organization here in Ohio and I'm just pumped to be here."
In 2014, after a stint on the LXM Pro Tour, Harrison has played better than ever, tallying 21 goals in his first 10 games for the Machine.
Harrison's return to the league came at the same time as his return to Team USA. He was named to the final 23-man roster for the 2014 FIL World Lacrosse Championships in Denver after playing with the national team in 2006, but missing out in 2010 when he was limited coming off of a torn hamstring.
Originally billed as a defensive midfielder for Team USA, Harrison said he is happy to play on either side of the ball.
"I welcome both, I enjoy playing defense, I enjoy playing offense," he said. "And I'm certainly capable of playing both –– whatever the team asks me to do, I'll do it."
After up-and-down seasons early in his career, a scorching start to his time in the Buckeye State may have put those defensive plans on hold.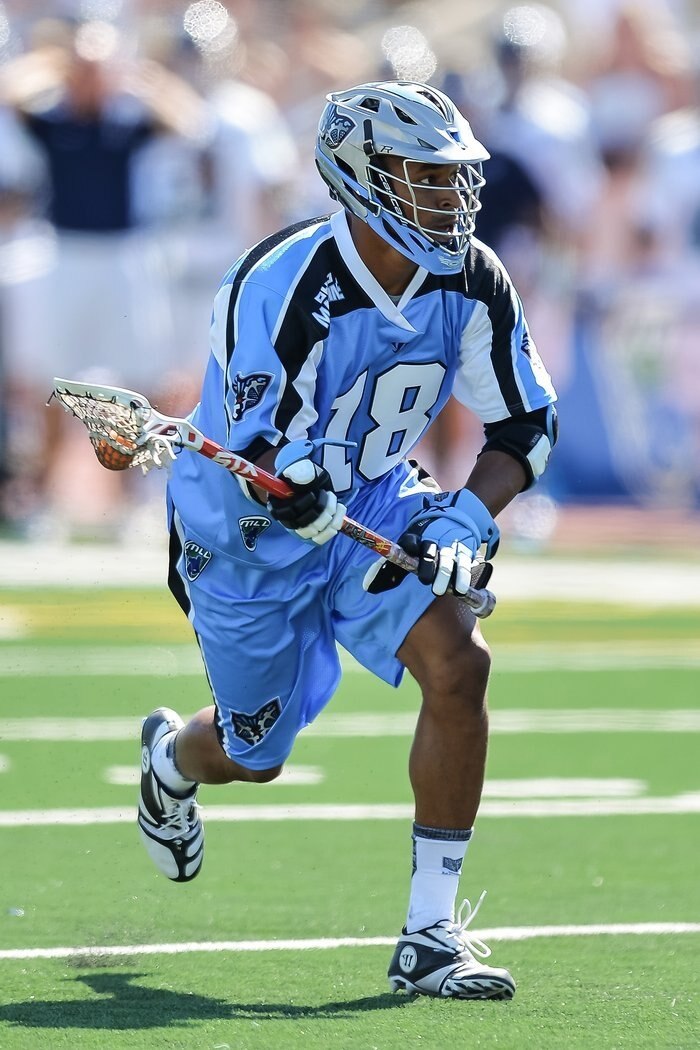 He kicked his Machine career off with a hat trick and an assist against Charlotte April 26, and has since followed up with a run of six games scoring multiple goals. He currently sits third on the team with 21 goals and 26 total points. He is second in the MLL to Machine teammate Peter Baum in goals by a midfielder.
Harrison said the biggest change has come with film study and repetition, making him more efficient.
"I think when you're coming from a college structure of an offense, it's completely different," he said. "Early in my career, certainly early in my MLL career, I wasn't very selective of my shots, I just kind of threw the ball towards the target."
When he made the decision to leave MLL for the LXM Tour in 2010, it wasn't because of any ill feeling for the league.
"The people that have supported me my entire career –– STX, my sponsors –– the LXM Tour is who they sponsor, so that made the most sense to play where they were involved," Harrison said.
While he continued to hone his game as a professional lacrosse player, Harrison said he missed playing in MLL, and jumped at the opportunity to come back with the Machine.
"I enjoyed my time in the MLL and when there was a partnership between LXM and the MLL, and then STX jumped on board to sponsor the MLL, it was a no brainer," he said. "I was really excited to come back."
Harrison originally played for the New Jersey Pride from 2005-07, the Los Angeles Riptide in 2008 and the Denver Outlaws in 2009 before heading for California and the LXM Tour.
He scored a then-career high 19 goals in 2007 –– a personal record he broke this season –– and tallied double-digit assists twice early in his career.
Before the beginning of his in the professional ranks, Harrison eared All-American honors in high school and then moved on to play at Johns Hopkins from 2002-05. He was named a finalist for the Tewaaraton Award his sophomore and junior seasons, before finally winning the prestigious trophy as a senior.
Even with continued success at every level, Harrison has played against the odds –– at least according to those on the outside looking in. But he has always kept his focus, ignoring any talk of his supposed shortfalls.
"Originally I couldn't play in high school, then I couldn't play at Hopkins and then I couldn't play in the MLL," Harrison said. "I've been hearing the same thing for 15 years now."
"In one ear, out the other."
While he may not read into what anyone says, Harrison has certainly proved he belongs in professional lacrosse –– and that he never left.
The World Championships are set to begin Thursday with the semifinals scheduled for July 17 and the Championship Game set for July 19. After the tournament, Harrison and Machine teammate Marcus Holman will be ready to come back strong as Ohio looks to make a playoff push down the stretch.
As for Harrison's career beyond 2014?
"Oh I'm not stopping any time soon," he said. "Just getting started."